Weekly Update (Jun 7): Goyfgate, Spreads and Multipliers
---
| | | |
| --- | --- | --- |
| |    | MTGGoldfish News Flash |
#Goyfgate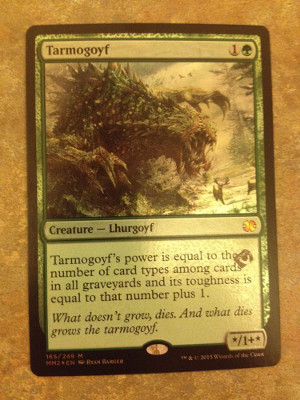 The infamous foil Tarmogoyf from #GPVegas was put on ebay this week by Pascal Maynard. It's currently sitting at ~$14,000 (more than the prize money for the Top 8 combined) with half of the proceeds from the auction going to the Gamers Helping Gamers charity. Who wants a piece (and can afford) of Magic history?
Site Update: Buylists, Spreads and Foil Multipliers
If you look around the site, you'll see that we added more buylist vendors (ABUGames, CardKingdom, ChannelFireball), as well as spread calculations and foil multipliers. Check out Brainstorm for an example. If you don't know what some of these terms mean, fear not, SaffronOlive can teach you how to use these tools.
Preparing for Rotation: Theros
With rotation creeping around the corner, @SaffronOlive discusses Theros cards to sell, hold, and buy. Preparing for Rotation: Theros
An Alternative Take on Punishing Cheaters
Why do people hate cheating and what can be done to mend all its ill effects? Drake explores these questions in a new way. An Alternative Take on Punishing Cheaters
Budget Magic: $52 (or 22 tix) Mono-Red Creature Storm - Modern
Looking for something different in Modern? @SaffronOlive shows off one of the cheapest Budget Magic decks yet! Budget Magic: $52 (or 22 tix) Mono-Red Creature Storm - Modern
Using Your Tools: Buylists, Spreads, and Foil Multipliers
@SaffronOlive discusses how best to make use of some of the financial tools recently added to MTGGoldfish. Using Your Tools: Buylists, Spreads, and Foil Multipliers
Tournament Results
Articles Recap
Several great articles were published on MTGGoldfish this week:
#Trending Cards
The five most viewed cards on MTGGoldfish this past week were: