Weekly Update (Dec 16): Chronicles Booster Box Giveaway
---

| | | |
| --- | --- | --- |
| --- | Ridge Wallet + Chronicles Booster Box Giveaway | --- |
We're giving away a Chronicles Booster Box and some awesome Ridge Wallet products!Read more
| | | |
| --- | --- | --- |
| --- | Budget Magic: $96 (13 tix) Bant Climb (Standard, Magic Online) | --- |
Is it time for Chamber Sentry and Hadana's Climb to shine in Standard on a budget? Let's find out!Read more
| | | |
| --- | --- | --- |
| --- | Finance Update w/ Saffron Olive | --- |
This week, the biggest finance news is once against Ultimate Masters. Supply is running dry much quicker than it did with either Iconic Masters or 25th Masters; both the local game stores and big box stores in my area are sold out or nearly sold out. Perhaps in part because the set is good, and in part because supply is lower than it was for past Masters sets. As a result, the prices of some of the most in-demand cards in the set have already started to stabilize. It might be worth picking up the cards you need sooner rather than later.
The biggest gainer in Modern this week was the Commander 2015 printing of Rapid Hybridization which went from $1 to about $5.50 in just a couple of days. While the Gatecrash version has been slowly increasing as well, it's still only $1.50, which makes it hard to figure out what's happening with the blue instant. The card is a Commander staple, being one of the best removal spells for mono-blue decks, but it's also very easy to reprint (and could even return in Ravnica Allegiance in a month). If you need some copies don't be afraid to pick up the Gatecrash printing, but otherwise just ignore the noise of the C15 movement.
Finally, prices seem to have stabilized on Magic Online and have even started to tick up slightly. While it's clear that Wizards is putting all of their support behind Magic Arena for Standard play, there's no signs that older formats are coming to the client anytime soon (if ever). As such, if you have any interest in Modern, Legacy, Vintage, or Pauper in digital form, right now is a great time to pick up a deck on Magic Online since prices are so low. There's a pretty good chance staples from older formats will be higher in a few months when we hit unofficial Modern season with a bunch of Modern Grand Prix and likely a Pro Tour or two.
| | |
| --- | --- |
| Much Abrew: Modern Lands (Modern, Magic Online) | How Much Is Ultimate Masters Helping Modern Prices? |
| | |
| Is throwing lands at our opponent's face a legitimate plan in Modern? Let's find out! Read more | Ultimate Masters has a lot of sweet cards, but is the set actually making Modern cheaper? Read more |
| | | |
| --- | --- | --- |
| --- | Free-To-Play Fish: Gruul Primal Fury (Standard, Magic Arena) | --- |
Join TheAsianAvenger as we find out if this week's deck is explosive enough to be considered....Dino-mite or a Tyrannosaurs Wreck heheRead more
| | |
| --- | --- |
| The Guild Throwdown-Showdown! | Goldfish Gladiators: Boros Visitation (Standard, Magic Arena) |
| | |
| Joe Dyer explores the politics of Ravnica and what we hope to expect from the story in Ravnica Allegiance and the Third Unnamed Ravnica Set Read more | Let's upgrade some 1/1 tokens into Serra Angels with the help of Divine Visitation in an aggressive, Boros tokens shell! Read more |
| | | |
| --- | --- | --- |
| --- | Against the Odds: Replicator Historic (Standard, Magic Arena) | --- |
What are the odds of winning with Mishra's Self-Replicator in Standard? Let's find out!Read more
| | |
| --- | --- |
| Vintage 101: I Took an Oath | Fish Five-0: Abzan Explore (Standard, Magic Arena) |
| | |
| Joe Dyer takes an Oath to defend the world against evil using the likes of Griselbrand and even Niv-Mizzet! Read more | Let's strap on our Explorer's hats and see if Abzan Explore can get the Five-0 with TheAsianAvenger! Read more |
| | | |
| --- | --- | --- |
| --- | Commander Clash S5 E23: CEDH! (Najeela vs. Teferi vs. Nekusar vs. General Tazri) | --- |
What happens when the crew plays the most expensive, broken and powerful decks possible? Let's find out!Read more
| | |
| --- | --- |
| One Token Over the Line (Selesnya Visitation, Standard, Magic Arena) – Stream Highlights | Podcast 201: Magic Esports Announcement & Magic Online Future |
| | |
| How effective is the plan of upgrading little 1/1 tokens into 4/4 Serra Angels? Let's find out! Read more | Seth and Richard discuss the big Magic Esport announcement and the future of Magic Online. Read more |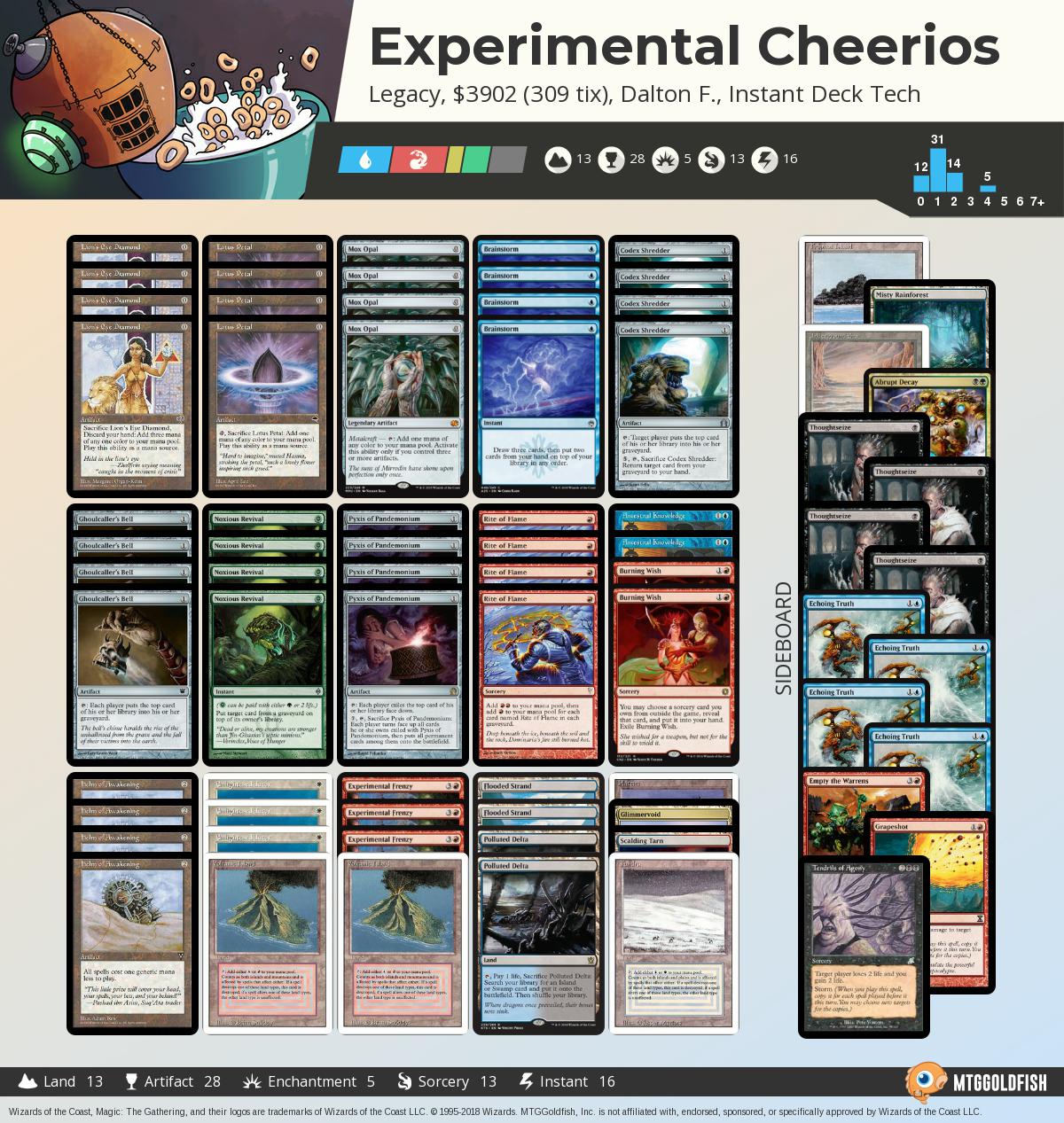 Each day we'll be posting a short, three minute deck tech featuring some of the coolest decks that come across the site. The most popular deck will be made into videos the following week based on your views, likes and comments in the videos. Here's this week's Instant Deck Techs:
The five most viewed cards on MTGGoldfish this past week were: