Weekly Update 2014-10-26
---
| | | |
| --- | --- | --- |
| |    | MTGGoldfish News Flash |
FNM Promo Update
It was revealed this week that January's FNM promo is Frenzied Goblin. As a reminder, December's promo is Stoke the Flames and November's promo is Brain Maggot.
Commander 2014 Spoilers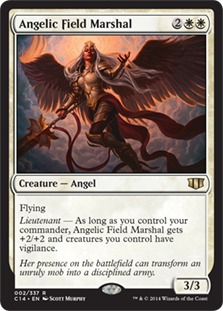 New Commander 2014 cards Feldon of the Third Path and Angelic Field Marshal were spoiled this week. The Mothership will be spoiling more C14 this upcoming week. C14 releases Nov, 7! You can follow the spoilers/preorder cards on our Commander 2014 Dashboard.
Vintage at Worlds 2014
Wizards announced that Vintage Masters Booster Draft will be played at the 2014 World Championships (Nice, France; Dec 2-3 and 7). The packs will be generated in Magic Online and physically reconstructed! Let's see those Mint Black Lotus and Moxes from the Wizards vault!
50,000 KTK Draft Games Analyzed
We posted our KTK Draft analysis here. Check out what the top cards and archetypes are! Ryan Cribbs also posted an in-depth analysis of the data here.
Articles Recap
Several great articles this week on MTGGoldfish:
Budget Decks
MTG Finance
MTG Theory
Decks and Metagame Analysis
Article Writers BETA
We're still looking for authors interested in publishing on MTGGoldfish! If this sounds interesting, please click here for details.
#Trending Cards
The five most viewed cards on MTGGoldfish this past week are:
Card Spotlight: Stoke the Flames
Would you trade your Garruk Apex Predator for a Stoke the Flames? Well you should on Magic Online! Stoke the Flames is worth 6.7 tix, whereas Garruk Apex Predator is only 5.3 tix! Stoke at Uncommon is the 5th most expensive card in M15. Pretty impressive considering the set contains 15 mythics and 58 rares! Check out the prices on the M15 page.
Funko Pop! Series 2 Release
The next series of Funko Pop! MTG figures are being released this week (October 31). They're available for pre-order on ebay right now for as low as $69.99. Collect your Elspeth, Tezzeret, Sarkhan, Kiora, Gideon, and Nicol Bolas today!
---
Want more news? Like us on Facebook or follow us on Twitter.