Weekly Update (Jan 4): Fate Reforged Spoilers, Promo Updates, Fatpack Giveaway
---
| | | |
| --- | --- | --- |
| |    | MTGGoldfish News Flash |
Fate Reforged Spoilers
We're in the middle of spoiler season and Wizards dropped some bombs for us. Below are a sampling of the spoilers. Be sure to check out our Fate Reforged Spoilers page for all the spoilers plus the latest prices as they're released.
We also covered some of the spoilers in depth in our articles. Check out some of the Fate Reforged thoughts:
>> View the rest of the spoilers
Fate Reforged Promos
Wizards revealed the promotional cards for Fate Reforged this week:
FNM Promo Update
The March FNM promo card will be Hordeling Outburst.
Fate Reforged Giveaway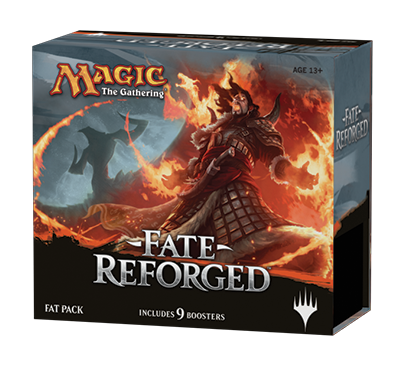 To celebrate the upcoming release of Fate Reforged and MTGGoldfish SuperBrew, we're giving away a Fate Reforged fat pack on release! Check out the Fate Reforged Fat Pack Giveaway and enter today!
Holiday Cube Statistics
We posted our Holiday Cube 2014 Draft Statistics this past week. The cube ends Monday Jan 5, so if you manage to read this before then, go queue up immediately!
Tournament Coverage
We had three major Standard tournaments this weekend:
Articles Recap
Several great articles were published on MTGGoldfish this week:
#Trending Cards
The five most viewed cards on MTGGoldfish this past week were: