Weekly Update 2014-11-16
---
| | | |
| --- | --- | --- |
| |    | MTGGoldfish News Flash |
Holiday Festival Vintage Championships
Wizards announced the Magic Online Holiday Festival Vintage Championship. The event takes place on Dec 20, and you can qualify from Dec 10 - Dec 19 by going 3-1 or 4-0 in a Vintage Daily Event, or going 4-0 in a Legacy Daily Event. In addition to the regular event prizes, Wizards is helping Legacy players kickstart their Vintage collection by giving away a non-foil Vintage Masters set to the top 3 players who do not have any of the P9 or Bazaar of Baghdad in their deck! Remember, it's not those who finish in the top 3, but the three highest decks without Power. This will make for some very spicy brews! Be sure to check out Vintage and Legacy decklists to see what people are playing!
Khans of Tarkir Gift Box
The Khans of Tarkir Gift Box was released this past week. For $20, the gift set includes 4 KTK boosters, a nice storage box, 20 basic lands, 6 plastic dividers and an alternate art Sultai Charm. You can grab them for $20 with free super saver shipping on Amazon. If you're looking for other great gift ideas, check out our 2014 Holiday Gift Guide.
Commander 2014 Upgrade Series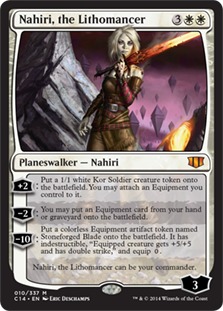 Are you having fun with your C14 decks and are looking to take them to the next level? We began our Commander 2014 Upgrade series this week with White: Swords and Cats. Check it out and leave a comment if you have any other additions!
Evolution of Magic
We also launched the Evolution of Magic series on MTGGoldfish this week as well. This series focuses on the history of Magic. We had two great articles this week Banned and Restricted List Early History and The Roller Coaster called Time Vault. Filobel does a great job recounting the Magic scene in its early days and some weird decisions by Wizards of the Coast. If you like the series, please leave a comment in the articles!
Articles Recap
Several great articles this week on MTGGoldfish:
#Trending Cards
The five most viewed cards on MTGGoldfish this past week are:
Deck Spotlight: Jeskai Stoneblade
Grand Prix: New Jersey wrapped up this weekend and to no one's surprise, Treasure Cruise took down the tournament. Brian Braun-Duin took the prize money with Jeskai Stoneblade. His deck runs a UWR Delver shell but without the Delver of Secrets and instead runs Young Pyromancer. It also skips out on Wasteland altogether. Other interesting card choices include 2x main deck Pyroblast to combat opposing Treasure Cruise and blue shenanigans. And of course it runs 4x Treasure Cruise to refill the gas. To no one's surprise, it looks like Treasure Cruise is the real deal. This deck is actually quite cheap online as far as Legacy goes (~$675), so expect it to flood the metagame. Containment Priest also shows up as a 2-of in the board for all you C14 financiers out there.
Want more news? Like us on Facebook or follow us on Twitter.