This is That: Battle for Zendikar
this is that battle for zendikar
---
How many times have you seen a new Magic card and been reminded of another card just like it?

How many original Magic cards are actually created in a given set?
As the saying goes, there is nothing new under the sun. Today, I have a brand new article entitled "This is That." We will look at the new set and evaluate how well Wizard's design team did at giving us a new take on this classic game. Based on feedback I may extend this to future sets.
Inside this article I look at every single one of the 249 cards in Battle for Zendikar and classify each according to how original it is. Rather than show you 500 card images of each card and its companion, you'll have several options to expand each group of cards.
Reprints
Mark Rosewater, head designer for Magic, stated in an article recently about the core sets going away:
For most of its life, the core set was all reprints...We talked about the impact of this change and we realized that if we want reprints in the game, we're going to have to be a little more liberal with using reprints in normal expansions...When the core sets were around, we repeated very few rares or mythic rares. Under the new system, we're being more conscious about bringing things back.
I'm not sure how I feel about this yet, but I'm more scared than excited. I'd rather have all original cards and no reprints than too many repeat cards taking up the Rare slot in a booster I open. Then again, reprints in moderation could be interesting. In this set we have 16 reprints, of which Dragonmaster Outcast is Mythic and Felidar Sovereign is a Mythic turned Rare. This feels about right, but if I start seeing many Rare slots (especially Mythic Rare slots) being eaten up by reprints, I may grow less enthusiastic of this new policy.
There are 16 reprints in the set:
Click to show 14 more reprints ...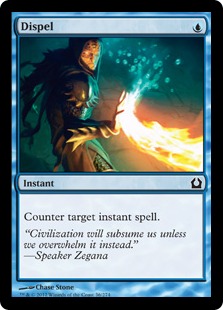 We got some new artwork and flavor text, which is about the minimum we should expect when the only effort required was to choose to reprint these cards. Interestingly, the only two cards that kept their original art were the two reprinted Mythics. I'm not sure why this is the case, but I'd love to see another artist's interpretation of these cards, even with Raymond Swanland's Dragonmaster Outcast being as incredible as it is.
Functional Reprints and Subtype/Color Shifts
Sometimes there exist cards which are not reprints but might as well be. There are spells with exactly the same text, and creatures who change nothing but their creature subtypes or colors. These types of cards are about as close to reprints as you can come by without being the same card.
There are 7 subtype shifts, 2 color shifts, and 1 functional reprint in the set:
Click to show 8 more functional reprints ...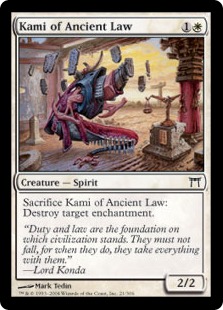 Strictly Better
You'll note that although I use the word "strictly," I'm not overly strict with these classifications — I'm just using a popular Magic term. Bellows Lizard is better than Lavastep Raider when you only have two-mana available and need a two-power creature. Lavastep Raider has better starting stats and a better rate of return on power pump. For all intents Lavastep Raider is better. I'm also aware that Culling Drone dies to Doom Blade, while Mist Intruder can't be pitched to Force of Will.
There are 18 cards in the Strictly Better category:
Click to show 16 more strictly better cards ...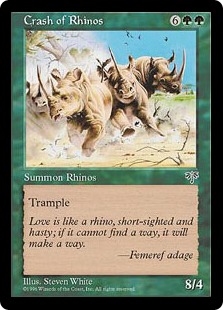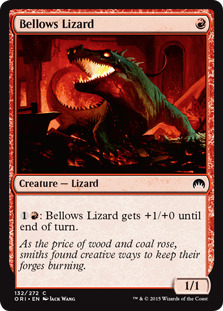 Strictly Worse
There are only two card pairs in this category this time around. As much as Wizards works to prevent power creep, they still prefer to not provide us with bad versions of already existing cards when possible.
There are 2 cards in the "Strictly" worse category:
Strictly Bigger
Cards in this section cost more than their counterparts and grant a bigger effect (along the same axis) than the original card. Sometimes the added cost is not mana. For example, Ulamog's Reclaimer requires processing an opponent's exiled card compared to Mnemonic Wall. However, Ulamog's Reclaimer gets an additional +2/+0 and loses defender as a payoff.
There are 20 cards in the Strictly Bigger category: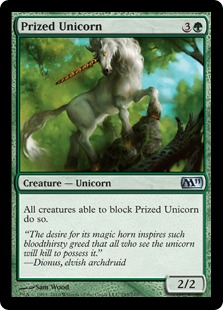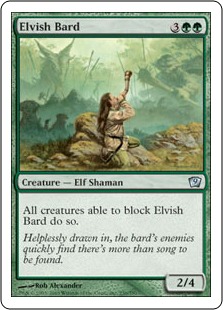 Click to show 18 more strictly bigger cards ...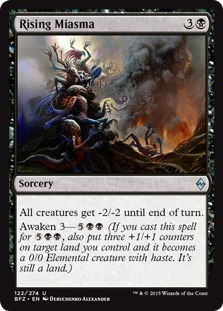 Strictly Smaller
Cards in this section cost less than their counterparts and grant a smaller effect (along the same axis) than the original card.
Wizards generally likes to do things big — not small — so there are a measly three cards in this category:
Barely Tweaked
The cards in this section are quite similar to one or more existing cards. Maybe it's two different creatures with the same rules text, such as Ajani's Pridemate and Bloodbond Vampire. Maybe it's two six-mana Time Warps with upside when you have infinite mana, such as Walk the Aeons and Part the Waterveil. Or maybe it's an instant speed version of an sorcery speed effect, as is the case with Journey to Nowhere and Stasis Snare.
There are a whopping 75 cards, almost a third of the set, in this category:
Click to show 73 more barely tweaked cards ...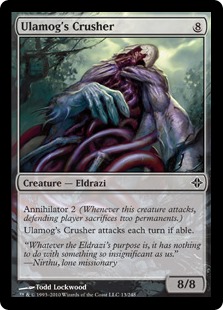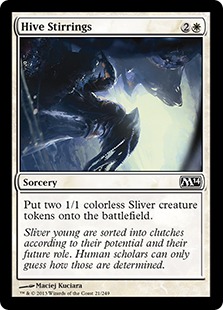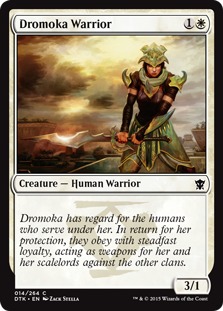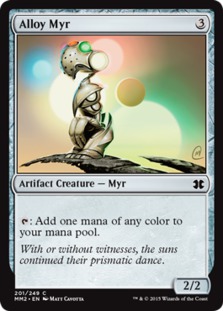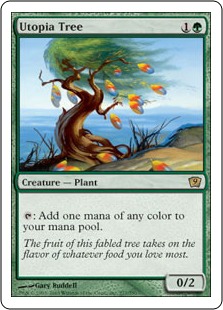 Somewhat Changed
The cards in this section are just similar enough to an existing card to not make it into the "Original" section below. I'll openly admit the difference between "Barely Tweaked" and "Somewhat Changed" is somewhat subjective — they're quite close.
There are 61 cards in this category. Not pictured, but included in the tally, are the Rare slowlands and their unfetchable cousins, the Innistrad checklands.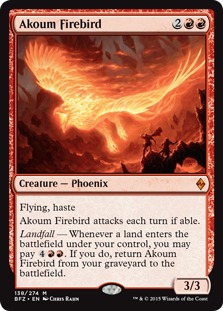 Click to show 59 more somewhat changed cards ...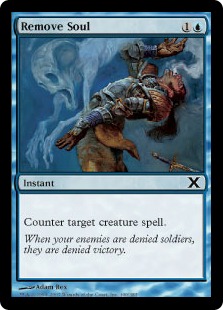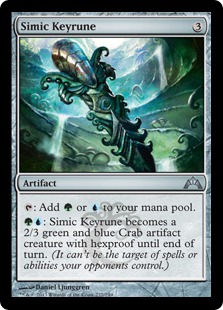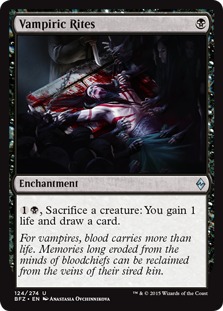 Original
The cards in this section are unique enough to be given the esteemed title of "Original." These cards provide a brand new effect for the game in one way or another. If you see a Battle for Zendikar card compared to another card in this section and think, "But those aren't similar at all!" then you're absolutely correct. You've identified why the card made it into the Original section.
There are 45 cards in this category: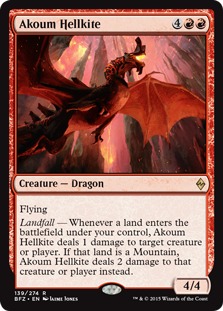 Click to show 43 more original cards ...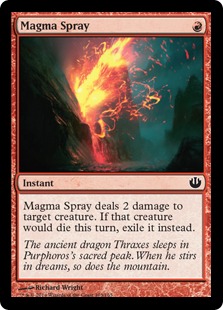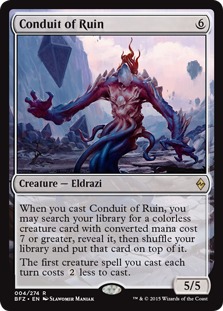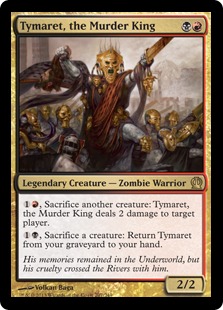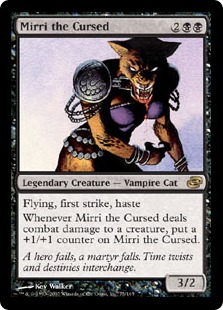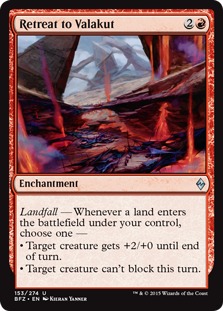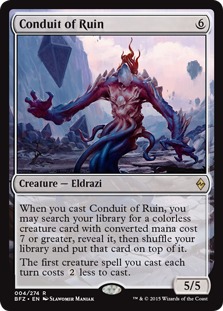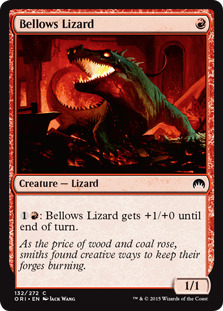 Conclusion and Final Tally
| | |
| --- | --- |
| Reprints | 16 |
| Functional Reprints and Shifts | 10 |
| Better | 18 |
| Worse | 2 |
| Bigger | 20 |
| Smaller | 3 |
| Barely Tweaked | 74 |
| Somewhat Changed | 61 |
| Original | 45 |
| Total | 249 |
So what do these numbers mean for the set and Magic's future? What do they say about Magic's design team? While many times a card's Evil Twin will shock you with just how close in form or function it is, I believe it is a necessary part of Magic for the following reasons:
There are a finite number of things a Magic card can do. Truly new territory is very rarely explored because design space is limited. If the Magic design team uses up all their new ideas in the next set, what's going to become of the set after that? Truly new design veins must be mined responsibly to keep Magic interesting every single set.
Complexity is raised too high if you give players too many new things to think about at once. Time Spiral block was a huge offender of this complexity overload. Experienced players could keep up with all the different things happening in the block, but casual players struggled to make sense of the dozens of keywords and mechanics being thrown together in the same pot.
A single card's originality is not the only measure of a set's originality. Even if a set has a very large proportion of reprints, such as Modern Masters or Modern Masters 2, both entirely reprints, the specific card combinations can lead to new interactions that make sets enjoyable to play. What this article fails to take into account is how the cards all function together.
Writing this article and noting which recycled ideas pop up in new cards is interesting, but not a measure of strength of a design team. Magic designers must deliver fun sets with which to play Magic. They do have the creative license to reuse ideas that worked in the past, and they must also listen to feedback when deciding what failed and shouldn't be repeated. Magic designers also work on card flavor, art, naming, and a bunch of other things of which I'm probably not even aware.
I hope this article has given you an interesting glimpse into how designers utilize old cards as the blueprints for new ones or stumble upon old design space inadvertently.
If you have any comments or want to suggest a card comparison I missed, reach out to me in the comments below or on Twitter @JakeStilesMTG.