Nylea, Keen-Eyed

Planeswalker Stamp

Foil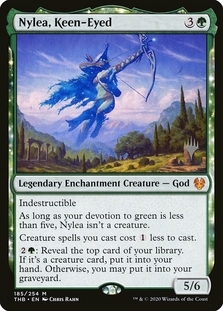 Nylea, Keen-Eyed
Planeswalker Stamp
Foil
Nylea, Keen-Eyed
Legendary Enchantment Creature — God
Indestructible
As long as your devotion to green is less than five, Nylea isn't a creature.
Creature spells you cast cost less to cast.
: Reveal the top card of your library. If it's a creature card, put it into your hand. Otherwise, you may put it into your graveyard.
#185 Illustrated by Chris Rahn
| | |
| --- | --- |
| Standard | Not Legal |
| Alchemy | Not Legal |
| Historic | Legal |
| Pioneer | Legal |
| Explorer | Legal |
| Modern | Legal |
| Legacy | Legal |
| Vintage | Legal |
| | |
| --- | --- |
| Commander | Legal |
| Brawl | Not Legal |
| Historic Brawl | Legal |
| Duel Commander | Legal |
| Commander 1v1 | Legal |
| Penny Dreadful | Not Legal |
| Pauper | Not Legal |
Decks Using Nylea, Keen-Eyed