Currency Converter
Streets of New Capenna Commander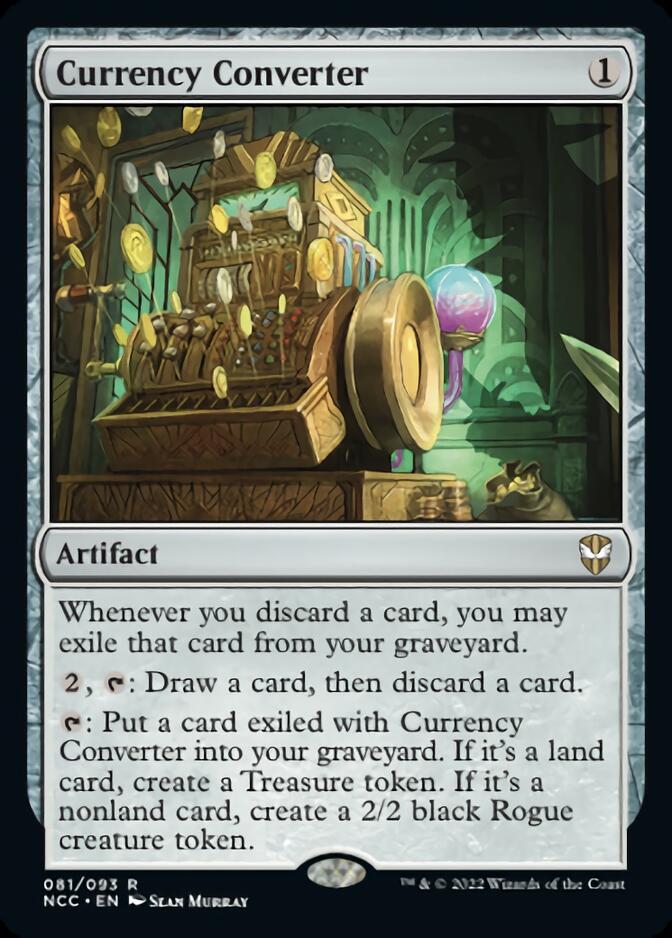 Streets of New Capenna Commander
Currency Converter
Artifact
Whenever you discard a card, you may exile that card from your graveyard.
, : Draw a card, then discard a card.
: Put a card exiled with Currency Converter into your graveyard. If it's a land card, create a Treasure token. If it's a nonland card, create a 2/2 black Rogue creature token.
#81 Illustrated by Sean Murray
| | |
| --- | --- |
| Standard | Not Legal |
| Alchemy | Not Legal |
| Historic | Not Legal |
| Pioneer | Not Legal |
| Explorer | Not Legal |
| Modern | Not Legal |
| Legacy | Legal |
| Vintage | Legal |
| | |
| --- | --- |
| Commander | Legal |
| Brawl | Not Legal |
| Historic Brawl | Not Legal |
| Duel Commander | Legal |
| Commander 1v1 | Legal |
| Penny Dreadful | Not Legal |
| Pauper | Not Legal |
Decks Using Currency Converter
| | | | |
| --- | --- | --- | --- |
| 7 | Kamiz, Obscura Oculus | Commander | $ 331 |
| 6 | Raffine, Scheming Seer | Commander 1v1 | $ 1,894 |
| 5 | Kroxa, Titan of Death's Hunger | Commander | $ 974 |
| 2 | Syr Ginger, the Meal Ender | Commander | $ 473 |
| 2 | Asmoranomardicadaistinaculdacar | Commander | $ 546 |
| 2 | Pia Nalaar, Consul of Revival | Commander | $ 285 |
| 1 | Flamewar, Brash Veteran | Commander | $ 494 |
| 1 | Slicer, Hired Muscle | Commander | $ 1,227 |
| 1 | Mishra, Excavation Prodigy | Commander | $ 635 |
| 1 | Urza, Powerstone Prodigy | Commander | $ 180 |