Tezzeret, Artifice Master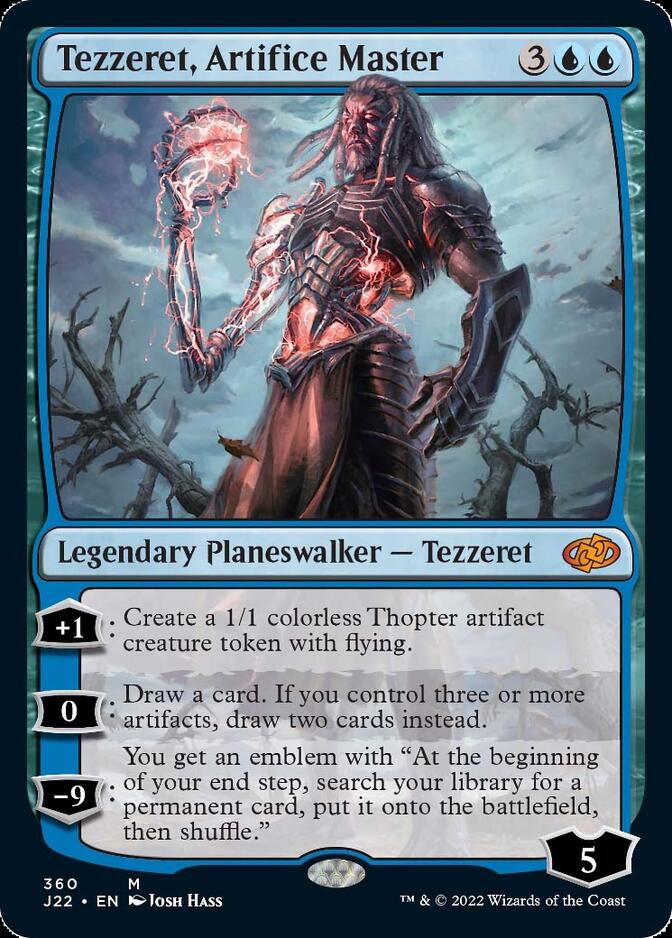 Tezzeret, Artifice Master
Tezzeret, Artifice Master
Legendary Planeswalker — Tezzeret
+1: Create a 1/1 colorless Thopter artifact creature token with flying.
0: Draw a card. If you control three or more artifacts, draw two cards instead.
−9: You get an emblem with "At the beginning of your end step, search your library for a permanent card, put it onto the battlefield, then shuffle."
#360 Illustrated by Josh Hass
| | |
| --- | --- |
| Standard | Not Legal |
| Alchemy | Not Legal |
| Historic | Legal |
| Pioneer | Legal |
| Explorer | Legal |
| Modern | Legal |
| Legacy | Legal |
| Vintage | Legal |
| | |
| --- | --- |
| Commander | Legal |
| Brawl | Not Legal |
| Historic Brawl | Legal |
| Duel Commander | Legal |
| Commander 1v1 | Legal |
| Penny Dreadful | Legal |
| Pauper | Not Legal |
Decks Using Tezzeret, Artifice Master
| | | | |
| --- | --- | --- | --- |
| 7 | Esika, God of the Tree | Commander | $ 1,477 |
| 6 | Atraxa, Praetors' Voice | Commander | $ 1,122 |
| 5 | Breya, Etherium Shaper | Commander | $ 1,310 |
| 5 | Urza, Lord High Artificer | Commander | $ 2,535 |
| 3 | Jhoira, Weatherlight Captain | Commander | $ 1,064 |
| 3 | Urza, Lord Protector | Commander | $ 723 |
| 3 | Saheeli, the Gifted | Commander | $ 697 |
| 2 | Jared Carthalion | Commander | $ 545 |
| 2 | Nicol Bolas, the Ravager | Commander | $ 1,016 |
| 2 | Urza, Prince of Kroog | Commander | $ 535 |