Teferi, Who Slows the Sunset

Prerelease

Foil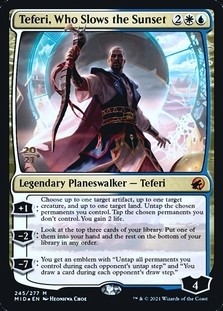 Teferi, Who Slows the Sunset
Prerelease
Foil
Teferi, Who Slows the Sunset
Legendary Planeswalker — Teferi
+1: Choose up to one target artifact, up to one target creature, and up to one target land. Untap the chosen permanents you control. Tap the chosen permanents you don't control. You gain 2 life.
−2: Look at the top three cards of your library. Put one of them into your hand and the rest on the bottom of your library in any order.
−7: You get an emblem with "Untap all permanents you control during each opponent's untap step" and "You draw a card during each opponent's draw step."
#245 Illustrated by Heonhwa Choe
| | |
| --- | --- |
| Standard | Legal |
| Alchemy | Legal |
| Historic | Legal |
| Pioneer | Legal |
| Explorer | Legal |
| Modern | Legal |
| Legacy | Legal |
| Vintage | Legal |
| | |
| --- | --- |
| Commander | Legal |
| Brawl | Legal |
| Historic Brawl | Legal |
| Duel Commander | Legal |
| Commander 1v1 | Legal |
| Penny Dreadful | Not Legal |
| Pauper | Not Legal |
Decks Using Teferi, Who Slows the Sunset
| | | | |
| --- | --- | --- | --- |
| 9 | Atraxa, Praetors' Voice | Commander | $ 1,137 |
| 7 | Urza, Lord Protector | Commander | $ 730 |
| 5 | Esika, God of the Tree | Commander | $ 1,562 |
| 5 | Shorikai, Genesis Engine | Commander | $ 949 |
| 4 | Nykthos Ramp | Pioneer | $ 461 |
| 4 | Sisay, Weatherlight Captain | Commander | $ 1,296 |
| 4 | Derevi, Empyrial Tactician | Commander | $ 1,001 |
| 3 | Grand Arbiter Augustin IV | Commander | $ 1,310 |
| 3 | Pramikon, Sky Rampart | Commander | $ 617 |
| 2 | Clan Crafter // Lae'zel, Vlaakith's Champion | Commander | $ 881 |