Weekly Update (Jan 25): B&R Update, Fate Reforged Standard Decklists, New Modern Decklists
---
| | | |
| --- | --- | --- |
| |    | MTGGoldfish News Flash |
Banned and Restricted Bonanza
The new Banned and Restricted lists were updated this past week. In case you missed it, here are the updates.
Modern:
Legacy:
Vintage:
The announcement turned the Modern upside-down and card prices went wild. Worldgorger Dragon went from a $1 rare to selling for $30 on ebay overnight. There was a lot of coverage on MTGGoldfish; check out some of our articles/podcast on the B&R:
Izzet vs Golgari Duel Decks
PSA: If you're going to buy Golgari Grave-Troll, think about picking up the Izzet vs Golgari Duel Deck. It includes Golgari Grave-Troll, Life from the Loam, Eternal Witness, Brainstorm, Golgari Thug, Isochron Scepter, Izzet Charm, and foil alt. art Niv-Mizzet, the Firemind and Jarad, Golgari Lich Lord. View the complete decklists with prices.
The New Standard
There were two major standard tournaments this weekend with newly legal Fate Reforged expansion.
Gerard Fabiano took down SCG Washington with Sultai Control running Ugin, the Spirit Dragon, along with Ashiok, Nightmare Weaver, Garruk, Apex Prediator, and Kiora, the Crashing Wave.
Luis Salvatto took down the Super Sunday Series Championship with a Boros Midrange deck featuring Chandra, Pyromaster, Brimaz, King of Oreskos, Ashcloud Phoenix, and Stormbreath Dragon.
The New Modern
What does the new Modern look like? The SCG Modern Premier IQ gives us a sneak peak at the upcoming Pro Tour with Bogles taking down the event. Joining it in the Top 8 were Junk, Zoo, Jund, Tron, Affinity, and Storm.
The New Legacy
The last major result of the week was SCG Legacy Premier IQ.
April FNM Promo: Suspension Field
The April FNM promotional card is Suspension Field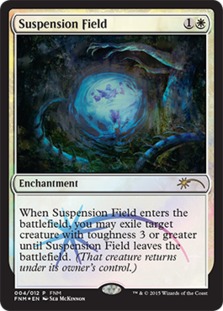 Budget Commander: Gahiji, Honored One
Tomer is back with another Budget Commander deck. Force your opponents to kill each other for your amusement with the power of politics. Budget Commander: Gahiji, Honored One.
Casual Monster: Siege of Hours
Do you like taking infinite turns in Standard? Check out this fun four card Turn 4 combo in Casual Monster: Siege of Hours
Khans of Tarkir Packs on Magic Online
What's up with Khans of Tarkir pack prices on Magic Online? Drew predicts the KTK pack price trajectory in Magic Online Finance: The Fate of KTK Packs.
Vintage Super League Returns
The Vintage Super League returns Tuesday January 27th. Tune in to watch your favorite pros - Steve Menendian, Luis Scott-Vargas, Eric Froehlich, David Williams, Chris Pikula, Tom Martell, Rich Shay, Randy Buehler, Bob Maher, Kai Budde - battle it out to be crowned the king of Vintage.
Fate Reforged Fat Pack Winner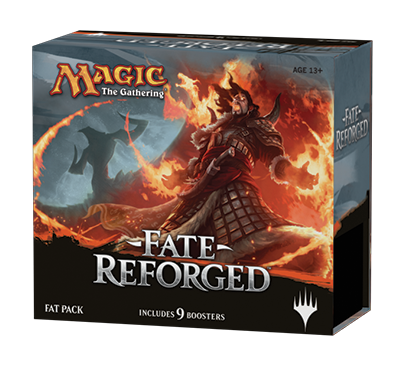 Congratulations to Rodolfo Aaron Collazo for winning our Fate Reforged Fat Pack Giveaway. Stay tuned for our next giveaway!
Articles Recap
Several great articles were published on MTGGoldfish this week:
#Trending Cards
The five most viewed cards on MTGGoldfish this past week were: