Vintage 101: TSI The Land 3 - Mishra's Twerkshop
---
Howdy folks! It's time yet again for another edition of Vintage 101! I'm your host, Joe Dyer, and this week we're going to be diving into some sweet paper Vintage action with my friends from Team Serious up at The Land! I could not make it out for this event, but it looked like a great time overall and had a great turnout. In addition to that we've got some Challenge data from over the weekend as well as a Spice Corner.
Without further ado, let's dive right in!
Team Serious Invitational: The Land 3 - Mishra's Twerkshop
As most of you know in the community by now, I'm a member of the group Team Serious, and that group does invitation-only type events every so often. Last year I wrote about the event at The Land, and this year Team Serious hosted yet another event up at The Land over the weekend of June 4th-5th, the third event hosted at this place, managed by Rajah James.
This particular event was given the moniker "Mishra's Twerkshop" and not only boasted a Vintage event with prizes, but also a Middle School event and a Pub Trivia event ran by Nat Moes of the Serious Vintage podcast.
I did not get to make it out to this event as I was out of town for family stuff, but I will say that the Land is an incredibly beautiful venue and it's always super fun to go to an event up there. The venue is a private property owned within the TO Rajah James' family, and it is a great space for playing some sweet Magic. As is always the case with Team Serious events, proxy playtest cards were allowed to be used in all of the events. TSI events also do some great philanthropy work, raising over $1100 for the Second Harvest Food Bank of the Mahoning Valley. Everyone who attends pitches in for food, donations, and even prizes (which are done via a draft of prizes at the end of the event based on standings). It's a pretty amazing time and always for a good cause in the end. You can find Rajah's full write up on the events over here, but let's start with some sweet shots of The Land itself and go from there!
The prize table!
This year's TSI at the Land had 34 players descend upon this property in rural Ohio for six rounds of Swiss and a cut to Top 8. At the end of the six rounds this was that Top 8. You can find currently the Top 16 lists on Goldfish over here.
| Deck Name | Placing | Player Name |
| --- | --- | --- |
| Paradoxical Outcome | 1st | Kai Schafroth |
| Standstill | 2nd | Kevin Lewandowski |
| Doomsday | 3rd | Patrick Vincent |
| Depths Combo | 4th | Jacob Hilty |
| Eldrazi | 5th | Stuart Ziarnik |
| Brass City Vault | 6th | Guhstin Dewey |
| Paradoxical Outcome | 7th | Bryan Hockey |
| UR Belcher | 8th | Bob Agra |
Definitely a sick Top 8 for sure, with some sweet decks going on here. At the end of the event it was Kai Schafroth of the Romancing The Stones crew out of Austin, TX who took down the event on PO.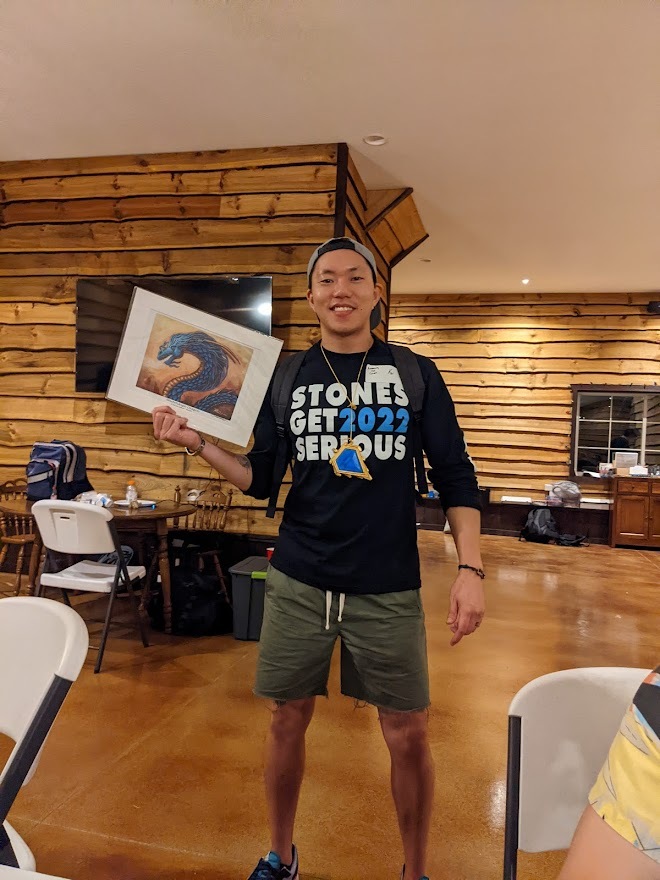 A very powerful looking non-Saga build here. Definitely looks like a strong list overall though, and that print he is holding in the picture is none other than Shichifukujin Dragon signed by the great Christopher Rush! Kai posted his event experience over on his blog over here.
The Second Place finalist of this event was on Standstill.
Solid looking deck here, and we'll see something pretty similar to this from this past weekend's Challenges as well. Solid looking.
Some other spicy stuff in the Top 8 was stuff like GW Depths from Jacob Hilty.
Porting GW Depths from Legacy into Vintage is pretty sweet, not going to lie. Looks like a really fun and interesting deck.
The big spice in the Top 8 came from the bottom entry, Bob Agra's UR Belcher deck.
Really using the MDFC cards to their full extent here, you can even mill Belcher with Emry and recast it from the graveyard. Just an absolutely sick list.
All in all, this looked like a sweet event, and I'm sad to have missed it, but there's always next time!
Vintage Challenge 6/11
We had two Challenge events this past weekend, the first of which was the mid afternoon Saturday event. This event had 50 players in it thanks to the data collected by the Vintage Streamer's Discord.
You can find all of the Top 32 decklists for this event here and the data sheet here.
No one deck really dominated in this event, and the decks at the top of the popularity bin here all did somewhat medium. DRS variants did quite well though, as did Doomsday and Hollow Vine.
Let's take a look at the Top 8.
| Deck Name | Placing | MTGO Username |
| --- | --- | --- |
| Bant DRS Standstill | 1st | duke12 |
| 4C DRS Standstill | 2nd | Tw33ty |
| Hogaak | 3rd | Nammersquats |
| Hollow Vine | 4th | yamakiller |
| Hogaak | 5th | GontiLordofStuff |
| Bird Blade | 6th | SenpaiBlank |
| Mono White Aggro | 7th | LuckyOnline |
| Breach | 8th | kbol_ |
Really interesting Top 8 here. Quite a bit going on and not so much in the way of pure Tinker variants outside of the Breach deck at the bottom of the Top 8. At the end of the event it was a pair of Lurrus Standstill decks that took down the event. Let's take a look at the winner.
Elvish Reclaimer is a pretty sweet card that looks like it would be super interesting in Vintage for sure. This is definitely an interesting list for sure.
The Second Place finalist went more in a 4C direction with a red splash.
W6 as a repeatable Loam for a specific land with Standstill in play seems pretty gross. Pretty wild to see both of these lists here and they both look really good.
Further down the Top 8 we had some Bird Blade!
This deck has looked super strong since it started popping up and SenpaiBlank's results with it really speak for themselves. I think Ledger Shredder really could have been the missing piece of making Stoneforge decks really strong.
Near the bottom of the Top 8 we have Mono White Aggro.
Lurrus enabling this deck to exist is pretty cool honestly. It always looks like a completely miserable time for an opponent to face this, which means it's probably doing something right for the power level of Vintage.
Vintage Challenge 6/12
The second Challenge event of the weekend was the early morning Sunday event, and it had 52 players in it thanks to the data collected by the Vintage Streamer's Discord.
You can find all of the Top 32 decklists for this event here and the data sheet here.
Pretty solid spread of decks here, with Breach, Doomsday, and PO looking very good, while DRS took a backseat. Looks like a great looking format honestly.
Let's take a look at the Top 8.
| Deck Name | Placing | MTGO Username |
| --- | --- | --- |
| Doomsday | 1st | discoverN |
| Paradoxical Outcome | 2nd | iloveyou |
| Breach | 3rd | Fantaman95 |
| BUG Midrange | 4th | yoshiwata |
| GW Hatebears | 5th | Wesal |
| Hogaak | 6th | Promidnightz |
| Breach | 7th | Yamaro |
| Grixis Tinker | 8th | kbol_ |
Some good stuff here, from some Tinker decks to Hogaak and Breach, but at the end of it all it was the one and only master of disaster discoverN on Doomsday who took down the whole event.
This is definitely the gold standard of Doomsday lists at this point. If you want to start on Doomsday, it's probably a really good idea to start with one of discoverN's lists for sure.
The Second Place finalist was on PO.
PO lists certainly have some fluctuations to them, but this is slowly looking like the majority accepted stock list for the deck at this point.
Also in this Top 8 we had some GW Hatebear action show up.
Just a very clean list here overall. Archon and SFM seem very good together, and Outland Liberator continues to be pretty strong. Definitely looking good.
Near the bottom of the Top 8 we had Hogaak.
Jund has definitely fastly become the defacto version of Gaak at this point.and it's pretty easy to see why with all the blast effects and extra set of free creatures that seems ultra releveant for the stuff going on in the format.
Around the Web
Our good friend Montolio has a bunch of league videos for us!
Justin Gennari has some spicy vids this past week:
SenpaiBlank posted a video on BirdBlade from another Top 8 run. Check it out here.
The Spice Corner
You can find all of the 5-0 decklists from this past week here.
PO Oath with COPY ARTIFACT.
Wrapping Up
That's all the time we have this week folks! Thanks for your continued support of the column and join me next week as we continue our journey into Vintage!
As always you can reach me at Twitter, Twitch, YouTube, and Patreon! In addition you can always reach me on the MTGGoldfish Discord Server and the Vintage Streamers Discord.
Until next time!