This is That: Shadows over Innistrad with Dave Humpherys
---
Welcome to an awesome installment of This is That! Inside this article I look at every single one of the 282 cards in Shadows over Innistrad and classify each according to how original it is. What new design veins did Wizards tap into? Which card from Magic's past looks most like each card? Rather than show you 500+ card images of each card and its companion, you'll have options to expand each group of cards.
I also had the opportunity to interview Dave Humpherys from Wizards of the Coast about some card-by-card questions, and you'll see our Q&A interspersed throughout. Let's kick it off with his introduction:
Jake: Hi Dave! Thanks for taking the time to talk with me! Tell us a little about yourself, your history with the game and with Wizards, and your role in helping create Shadows over Innistrad.
Dave: I've been playing Magic since the spring of 1994. Unlimited and Antiquities were some of the first products I encountered. I played in 50+ Pro Tours, and I was inducted into the Magic Pro Tour Hall of Fame in the second class. I've been a Design/Development Manager at Wizards of the Coast since May 2010, managing the development team. The original Innistrad was the first set development team I was on from start to finish. I led the team for the Final Game Design and Development of Shadows over Innistrad. A design team led by Mark Gottlieb handed off the design file and vision to me and my team.
Reprints
Jake: In Shadows over Innistrad, there are many great reprints such as Tormenting Voice, which ties into both the set's horror theme and mechanical function with Madness and Delirium. Do these reprints come about naturally or are designers constantly scouring Gatherer for good candidates?
Dave: There is a decent amount of searching and scouring for cards both in name and in functionality that might take a new twist within this thematic setting and new pool of mechanics.
There are 15 reprints in the set:
Click to show 13 more reprints ...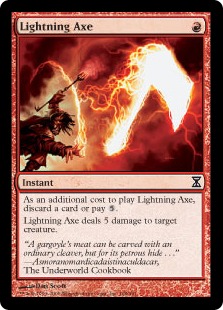 Functional Reprints and Subtype/Color Shifts
Jake: In this set, Sanguinary Mage is showing off the newest evergreen ability Prowess and has the same stats as Jeskai Student. What type of discussion and thought goes into what type of simple creatures fall into which area of the color pie and what things are or are not appropriate to color shift?
Dave: We are generally trying to make the right tools for the right decks. In this case, we felt this card would be most functional in the Red/Blue spells deck we were focusing on for limited and constructed. This card was a 2/1 for a couple months, with greater power than toughness as is more generally true of red creatures, but the Red/Blue deck was intended to be a more controlling deck so we realized it would be better off with a 1/3 to help protect its owner while they set up their plans. We realized the comparison to Jeskai Student but this is the sort of card that can functionally co-exist in both these colors and be deployed as needed.
There are 7 subtype shifts, 2 color shifts, and 2 functional reprints in the set:
Click to show 9 more functional reprints ...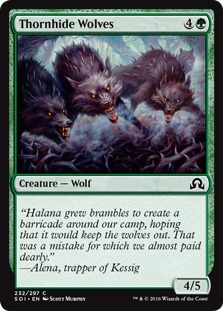 Generally Better
Jake: Sometimes a new card outclasses an old one simply because the old one wasn't very strong from the beginning. But sometimes it can indicate a purposeful decision to change a design philosophy. Falkenrath Gorger is the first one mana Red 2/1 without a downside, and in fact, has an upside! Is this part of a larger plan to better define and expand Red's design space?
Dave: Falkenrath Gorger's power level does reflect a move to explore new spaces for Red. We've been looking for ways to make Red less narrow in how it excels in Standard. Part of this plan has us being more conservative about Red burn, which has generally been quite strong in recent years, and looking for opportunities to compensate in other designs like Falkenrath Gorger and as seen more recently in other cards like Chandra, Flamecaller.
There are 20 cards in the Generally Better category:
Click to show 18 more generally better cards ...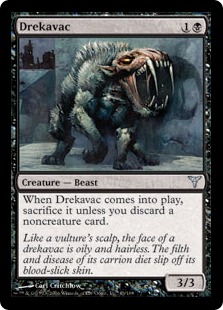 Generally Worse
Wizards tries not to give us worse versions of cards we already have at our disposal, but sometimes we get them anyways. I imagine these cards are typically the result of balancing Limited and Standard power levels.
There are 2 cards in the Generally Worse category:
Generally Bigger
Jake: I love how you payed homage to older Innistrad cards in Aberrant Researcher continuing the story of Delver of Secrets and Thalia's Lieutenant being a "new" Champion of the Parish. How do you balance evoking the flavor and memories of the original Innistrad block while also delivering a fresh new limited and constructed experience?
Dave: In general, I feel like we want to try very clear and simple connections to Innistrad. Even very similar cards or callbacks are often going to create very different play experiences or deckbuilding goals in a new setting or with different mana costs or effects. We are wary about exact reprints of cards that were particularly strong since we don't want the experience to become too much the same again.
There are 16 cards in the Generally Bigger category: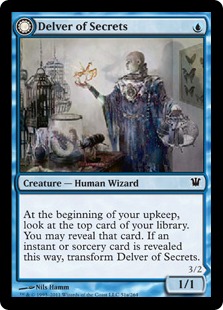 Click to show 14 more generally bigger cards ...
Generally Smaller
Jake: Anguished Unmaking is a great example of flavor meeting function in that the art, flavor text, and ability tie together to help create a story. How much pressure, if any, is there to make these "story moment" cards stronger in power level so that they'll show up in constructed more and remind players about the overall theme of the current block?
Dave: We want these cards to enrich a player's understanding of the story. We also want these cards to be notable in at least one way that will generate discussion and make them memorable. Often this leads to fun cards that we naturally want to be reasonably powerful anyway, but, in short, yes, in close calls these are likely to be a bit stronger than they would be otherwise.
There are 5 cards in the Generally Smaller category:
Barely Tweaked
Jake: The new Skulk mechanic found on Furtive Homunculus is a super interesting form of evasion which can incentivize having smaller blockers instead of large ones. How quickly was Skulk adopted as a mechanic in Shadows over Innistrad and did it show up in any other colors before it landed in Blue and Black?
Dave: Skulk, which was called Sneak during design, was actually created during the exploratory design phase of the process, before the design team formally meets. So, yes, Skulk was explored in the set very early on. We only explored using it in Blue and Black. I did make Skeleton Key and Behind the Scenes early in development to try to learn more about granting the mechanic to a greater variety of creatures.
There are 76 cards in the Barely Tweaked category, including the non-pictured Uncommon land cycle whose comparison point is the Oath of the Gatewatch Uncommon land cycle including lands such as Meandering River: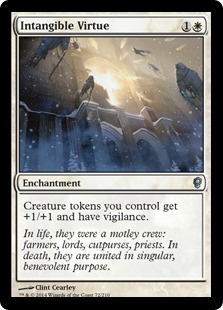 Click to show 74 more barely tweaked cards ...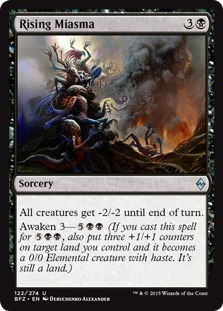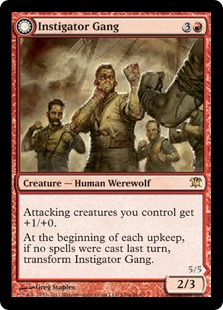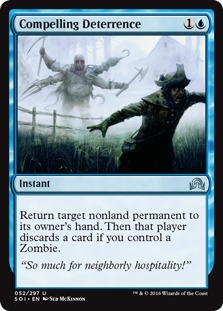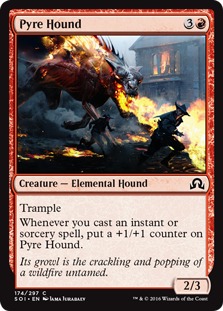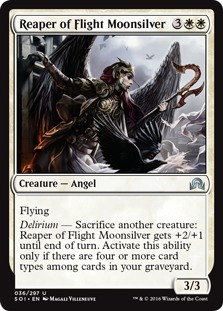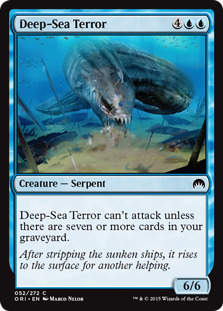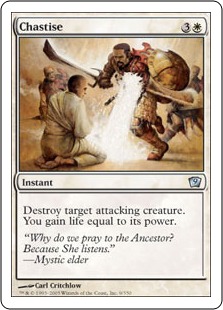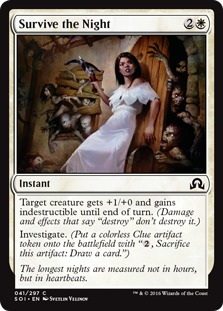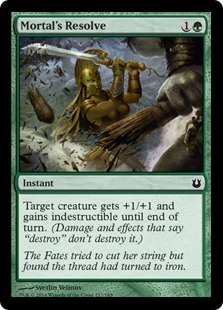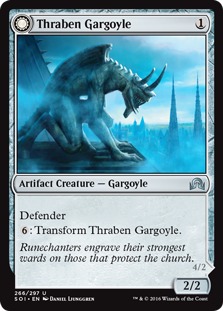 Somewhat Changed
Jake: According to Mark Rosewater, Planeswalkers have the least design space of any card type, and Jace, Unraveler of Secrets has drawn some attention for having abilities similar to Ob Nixilis Reignited. What techniques do you use to keep each Planeswalker feeling unique while still being able to add exciting, new ones each year like Arlinn Kord?
Dave: We spend a lot of time working on our Planeswalkers. They are definitely the most challenging cards to create each set both with an eye towards design and development. It does help that they have several abilities that we can weave together mechanically to create a sequential experience that cards typically can't do themselves. Each new Planeswalker we introduce also gives us an opportunity to explore how to best represent that character which then often then leads to some fun and novel design space. We do know what suite of abilities have generally worked best in the past, such as including some combination of card advantage and/or protecting themselves via creating tokens or creature removal. This can certainly lead to some characters appearing similar to some of players, even if the Planeswalkers are doing this with different effects and flavor.
There are 61 cards in the Somewhat Changed category, including the non-pictured Rare land cycle whose comparison point is the original Innistrad land cycle including lands such as Isolated Chapel:
Click to show 59 more somewhat changed cards ...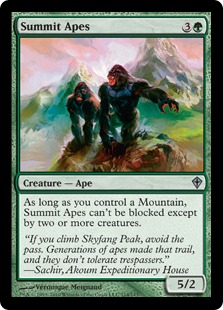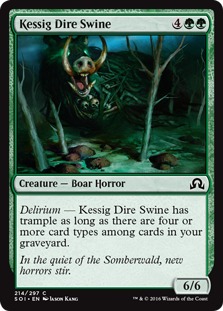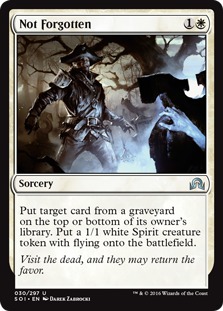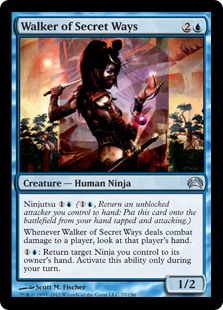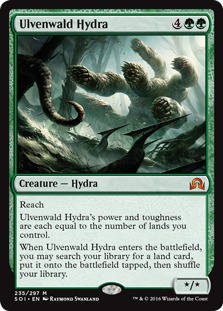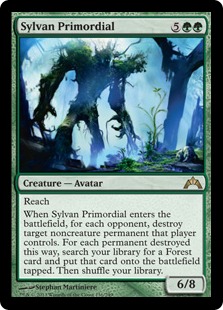 Original
Jake: While previous, conditional Mind Controls have referenced power, Welcome to the Fold checks the target's toughness, and I can't figure out why! Is this an example of a power level change, a new shard of Blue's design space being unlocked, or just a designer trying out something new?
Dave: This deviation from the norm is more to the specifics of an environment and cards we expected to interact with Welcome to the Fold. We knew our Madness cards would be seeing a lot of play with Jace, Vryn's Prodigy. In those decks we tested, when he transforms to Jace, Telepath Unbound, we found his +1 ability to give a creature -2/-0 was stronger in conjunction with Welcome to the Fold than we wanted. So to best preserve the general design we changed [it] to toughness which we felt would also give it some other different roles than similar cards like Exert Influence.
There are 76 cards in the Original category:
Click to show 74 more original cards ...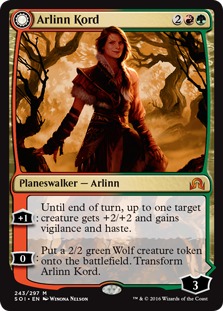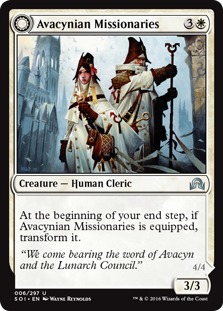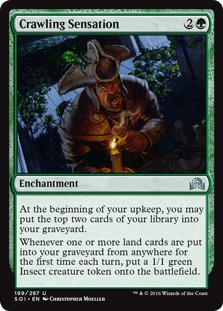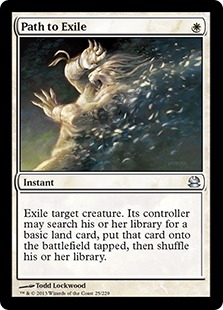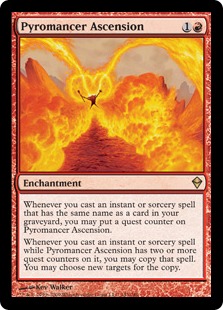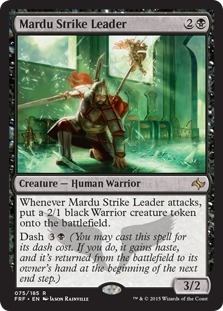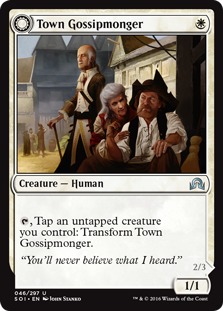 Conclusion and Final Tally
| | |
| --- | --- |
| Reprints | 15 |
| Functional Reprints and Shifts | 11 |
| Generally Better | 20 |
| Generally Worse | 2 |
| Generally Bigger | 16 |
| Generally Smaller | 5 |
| Barely Tweaked | 76 |
| Somewhat Changed | 61 |
| Original | 76 |
| Total | 282 |
If you have any comments or want to suggest a card comparison I missed, reach out to me in the comments below or on Twitter @JakeStilesMTG. If you want to hear more from Dave, you can find him on Twitter @Grumpherys and read his article archive here.
Jake: In closing, are there any special Shadows over Innistrad design or playtest stories you wish to share? Alternatively, what's your favorite card in the new set and why?
Dave: It's too hard to choose a favorite. Relentless Dead, Ever After, Declaration in Stone, Drownyard Temple, Duskwatch Recruiter were some cards I personally had a big hand in designing that I'm quite happy with. As far as limited, I designed and was well known for loving to play Epitaph Golem as a Laboratory Maniac of sorts.
Jake: Thanks again for your time, Dave!