Pioneer Peak: Nayayaya Aggro
---
This week we try to play a deck without blue...... and I went one step ahead and didn't add black either as I love Thoughtseize in every deck I play. So what did I play then? Nayaaaaaaaaaaa!
Gameplan
This deck plays pretty much like the Gruul aggro deck in Historic and has solid creatures at each point of the curve so sometimes you can just curve out and your opponent might be dead by turn 4.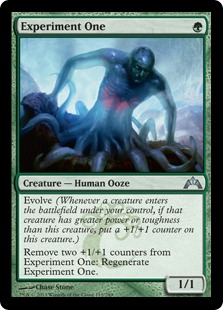 Experiment One is such a sweet one when it was in standard and it's nice to play with it again. Now it has its elf counterpart in Pelt Collector and both are key to our best aggressive starts. Also, we're playing Bronzehide Lion which is one of MTGTHB cards to make it into the deck. The card is a threat on its own and later on we can make any of our threats indestructible for two mana. The speed of our deck is on display as Gruul Spellbreaker keeps the aggression going and pretty much makes it feel like our deck is loaded with super Wild Nacatls and can be absurdly difficult to beat with curves like these. This is pretty much our early game package but let's take a look at our "late game"...
We don't really play anything beyond 4 mana as there isn't really a need as our QB aka Questing Beast is usually the closer after a sweeper effect and Rekindling Phoenix is just a solid evasive threat that pressures our opponents to have an exiting effect or some other way to slow it down. What about when creatures can't close on their own?...
Atarka's Command is huge for us as it allows us to pump our entire team and has so many options and most of them are great, although I don't think I've ever used the "put a land into play" option before. It's nice to have a Skullcrack at times as we may not have creatures but our opponents are lingering at low health totals. Both the command and Boros Charm is the reach in our deck but they also have utility like Boros Charm's ability to protect us from a pending Supreme Verdict or sweeper effect.
Conclusion
** VIDEO SPOILER **

*** VIDEO SPOILER ***

The deck seriously performed like clockwork at certain points getting us easy wins like that turn four victory! Also, the one match I played against the Orzhov auras deck and they had over 200+ life (which was amazing), I think I might've boarded wrong by dropping Atarka's Command as I think that should've stayed in. We just hope to beat the opponent's down before they can get their engine online. Speaking of not interacting, I think there's potential to play cards like Fry or more Declaration in Stone as we desperately needed to interact with some creatures before things got out of hand. Maybe a few more copies of those things wouldn't be too bad out of the board. It'd probably look more like this ...
As always, thanks for watching! See ya at the next one.
If you ever have a deck you want to be made into a video feel free to leave a like, comment, Email, and subscribe to the MTGGoldfish Youtube Channel
-Your Friendly Neighborhood AsianAvenger
Twitter: @TheAsianAvenger || Twitch: twitch.tv/TheAsianAvenger || Email: theasianavenger@mtggoldfish.com